Book direct & get benefits!
Lowest rate guarantee
No Hidden Fees
Picture Perfect Weddings
In Breathtaking Cocoa Beach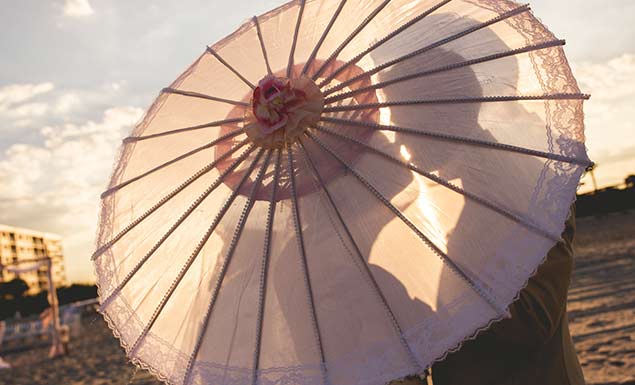 Imagine exchanging vows on the pristine sands of Cocoa Beach, followed by an elegant reception surrounded by family and friends. Your wedding can be everything you have ever dreamed of at Cocoa Beach's beautiful International Palms Resort & Conference Center. Choose one of our special wedding menus or allow our award-winning chef to customize a menu just for you. Bride/Bride and Groom/Groom couples are always welcome too!
Dreamy Sunset Weddings at the Edge of the Ocean
Starfish Ceremony
Barefoot Ceremony - Optional
Elopement Ceremony Package
Starfish Ceremony
Romantic Oceanfront Setting
Bamboo Arch with Chiffon Embellishment
Up to 100 White Wedding Chairs (additional chairs $3)
Wedding Ceremony Planning & Day of Ceremony Coordination
Indoor Ceremony Locations also available
Additional Charge for Upper Ocean Deck, Surfside Lawn or Weather Back Up
Let's Plan
Barefoot Ceremony - Optional
Beautiful Oceanfront, Upper deck, or Surfside Lawn Setting
Bamboo Arch with Chiffon Embellishment
Up to 100 White Wedding Chairs
Shoe Basket and Sign
Water Station
Butler-Passed Champagne Toast
Wedding Cake Cutting Service
Coffee Service
Wedding Ceremony Planning & Day of Ceremony Coordination
Let's Plan
Elopement Ceremony Package
Ceremony on Beach or Surfside Lawn
White Chairs for up to 20 people
Bamboo Arch
Special Room Amenity
Officiant Available upon Request for additional charge
Let's Plan
One Full Hour of Unlimited Hors D'oeuvres:
Crab stuffed mushrooms
Brie and raspberry en croute
Conch fritters
Spanakopita
Coconut shrimp
Bacon-wrapped scallops
Vegetable spring rolls
Mini beef Wellington
Mini chicken cordon bleu
Caprese salad skewers
Fresh fruit skewers
Mini crab cakes
Asparagus and asiago filo wraps
Chicken satay
Freshly brewed coffee
Decaffeinated coffee
Freshly brewed iced tea
Impressive Event Spaces for Unforgettable Receptions
Seahorse Dinner Package
OceanBreeze Dinner Package
Breakfast & Brunch Buffet
Seahorse Dinner Package
Discounted rate on Oceanfront Suite for Bride and Groom (based upon availability)
Special Guest Room Rates for Wedding Guests (Guest room rates available with ten or more rooms)
Ballroom Rental with Dance Floor
Additional Room Rental for Upper Ocean Deck and our Surfside Lawn
White Linens, Chair Covers and Sashes, Calla Lily Centerpieces
Cake Cutting & Service
Champagne Toast
Wedding Ceremony Planning & Day of Ceremony Coordination
Let's Plan
OceanBreeze Dinner Package
Discounted rate for Oceanfront Suite for Bride and Groom (based upon availability)
Two nights if wedding takes place on Sunday-Thursday
Special Guest Room Rates for Wedding Guests (Guest room rates available with ten or more rooms)
Ballroom Rental with Dance Floor
Additional Room Rental for Upper Ocean Deck and our Surfside Lawn
White Linens, Chair Covers and Sashes, Calla Lily Centerpieces
Cake Cutting and Service
Champagne Toast
Wedding Ceremony Planning & Day of Ceremony Coordination
Let's Plan
Breakfast & Brunch Buffet
Discounted rate for Oceanfront Suite for Bride and Groom (based upon availability)
Special Guest Room Rates for Wedding Guests (Guest room rates available with ten or more rooms)
Additional Room Rental for Upper Ocean Deck and our Surfside Lawn
White linens, Chair Covers and Sashes, Calla Lily Centerpieces
Cake Cutting and Service
Wedding Ceremony Planning & Day of Ceremony Coordination
Let's Plan
Sunrise Wedding Breakfast Buffet
Minimum of 30 people
Seasonal fresh fruit
Chilled orange, cranberry and apple juice
Scrambled eggs, breakfast potatoes, biscuits and country gravy
Choice of one: pancakes or cinnamon French toast with warm maple syrup
Choice of one: plain or cheese grits, cinnamon raisin or traditional oatmeal
Choice of two: sausage links, bacon, ham or sausage patties
Assorted muffins and pastries served with butter and preserves
Freshly brewed coffee, decaffeinated coffee, and herbal teas